Transform the Mobile Internet
See how new Cisco mobility innovations are changing the world around us. (1:40 min)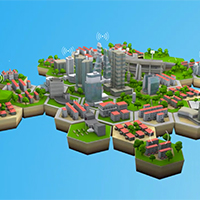 Innovative Museum Technology
Close

Viewing this video requires the latest version of Adobe Flash Player with JavaScript enabled.
Deliver More Intelligent Personalized Services
Service providers are seeking new ways to accommodate the surge in mobile data traffic, smart portable devices and things coming onto their networks. As mobile devices proliferate, so do the opportunities to strengthen relationships with customers by delivering a superior subscriber experience.
Now you can promote a "your way" experience across wired, Wi-Fi, and cellular networks, without compromising your network. The intelligent network provides granular, real-time visibility and updates across every level of the network-transport and user, access, core, and cloud.
You can use data in motion to address your primary objectives of monetization and optimization while providing exceptional user experiences. Data in motion refers to real-time and near-real-time information that can enable contextual and personalized experiences or services with higher value (price, bit). This intelligence can be extracted at multiple layers and then combined or correlated, resulting in access to valuable information for business-to-business and business-to-consumer services.
A network based on the Cisco next-generation Internet architecture can help you manage the rapid growth in mobile data, and profit from it as well. It includes:
An elastic programmable mobile architecture, with one of the industry's most comprehensive mobile portfolios
Cisco Quantum, a software platform consisting of network intelligence functions that gather, process, and facilitate programmability into networks
Intelligent infrastructure to provide improved coverage and capacity as well as trusted access
Cisco Licensed Small Cell Solution, a standards-based system with in-building small cell base stations for homes and enterprises
The Cisco ASR 5000 Series mobile multimedia core platforms, with outstanding performance and intelligence
The 2013 Cisco Mobile Visual Networking Index for new insights on global mobile traffic
Cisco supports all leading radio access technologies to promote a "network of networks" with full mobility for:
Faster service deployment
Greener network operations
Higher profitability
More scalability and cost-effectiveness
Cisco is developing solutions that deliver a next-generation mobile Internet experience for consumers and solve service providers' primary business challenges.
To help deploy mobile Internet solutions efficiently and successfully, Cisco Services offers consulting for design, implementation, integration, and support.
Cisco Licensed and Unlicensed Small Cell solutions bring an optimal user experience and spectral efficiencies to operator networks.
Cisco multimedia core solutions address CDMA, which mobile operators need to deliver mobile broadband services to your subscribers.
The Cisco next-generation UMTS/HSPA solution supports broadband network requirements while shaping the subscriber experience.
The Cisco LTE EPC solution offers service providers market-leading performance, integrated intelligence, and exceptional network flexibility.
The Cisco EPC Satellite RAN Solution delivers satellite services that are scalable and behave like any other access technology.
This comprehensive solution provides continuity between IP multimedia subsystem (IMS) and circuit-switched domains.
Cisco Unified RAN Backhaul supports any radio and any media. It delivers a highly reliable, cost-optimized solution to meet the ever-increasing demands of mobile Internet services.
Use Cisco Mobile Videoscape to manage video delivery over mobile networks, reduce expenses, and help generate new revenues.
As operators deploy new services and try to develop new revenue streams, the Cisco multimedia solution delivers a suite of SIP-based services and a comprehensive, high-quality communications experience.
Improve the quality of experience for your subscribers while restraining costs, creating new revenue streams, and increasing data traffic.
More Resources
At-a-Glance
(1)
Case Studies
(2)
Press Coverage
(1)
Solution Overviews
(3)
White Papers
(12)
Relevant Solutions