Managed Unified Contact Center
Learn the advantages of delivering a managed unified contact center service. (4:12 min)
Managed Unified Contact Center
Managed Unified Contact Center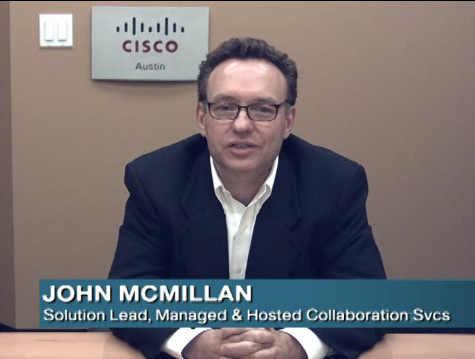 Learn the advantages of delivering a managed unified contact center service. (4:12 min)
Viewing this embedded video requires the latest version of Adobe Flash Player with JavaScript enabled.
Get the Flash Player
Increase Revenue with a Unified Contact Center
Now you can host contact center infrastructure and software (shared by multiple business customers) in a central office or data center. The Cisco Unified Contact Center Hosted service solution features flexible deployment models and supports subscribing business customers with:
IP infrastructures
Time-division multiplexing (TDM) infrastructures
Combination IP and TDM infrastructures
This unified contact center solution also offers a suite of integrated services that you can introduce all at once or incrementally, including:
Virtual call center: Calls are routed to unified contact center agents independent of their location, a service especially appealing to businesses with branch offices or home agent.s
Network routing with computer telephony integration: Network-based automatic call distributor (ACD) is combined with computer telephony integration (CTI) services.
Network interactive voice response (IVR): IVR functionality is located in the network to provide information to or collect information from callers before they speak with a live agent.
Intelligent call routing: Calls are routed between unified contact centers based on call context information (dialed number and caller ID), agent availability, and customer information from databases.
Host a Unified Contact Center
With the Cisco Unified Contact Center Hosted solution, you host in a central office or data center the contact center infrastructure, including:
ACD features
IVR services
IP telephony services
Easily Set Up New Customers
This logical extension of your voice services portfolio brings additional revenue per customer. With Cisco Unified Contact Center Hosted, the subscribing customer is given administrative privileges and features equal to their skill level. Provisioning tools can also save you many hours in setting up each new subscriber.
A unified contact center service practice could include the following:
Business application consulting to define unified contact center business processes and design application and call flows to optimize the customer service experience/li>
System implementation services to plan, design, and deploy unified contact center services
Management services to host and manage unified contact center systems
Optimization services to analyze contact center business and system metrics and define opportunities to improve the efficiency and customer service experience